Comprehensive Dentistry

Comprehensive dentistry involves the diagnosis and treatment of general conditions affecting the teeth, gums, and jaw. We emphasize quality preventive care because it allows us to diagnose and treat problems early while they're small and utilize more conservative treatment plans. Early diagnosis also reduces your risk of needing more complex–often more painful and expensive–treatment in the future. We also offer dental sealants, fluoride treatments, and routine extractions.
Back to Top ↑
Restorative Dentistry

Many of the things that we take for granted with natural teeth–including smiling, talking, and eating the foods we love–can all become easier again with restorative dentistry. We offer a variety of restorative dental treatments that can help you get your smile back and better than ever, including tooth-colored dental fillings.
Back to Top ↑
Cosmetic Dentistry

An attractive smile can enhance your self-esteem, boost your confidence, and help you make better first impressions. Even subtle treatments like teeth whitening and tooth-colored fillings can make a BIG difference in the health and appearance of your smile.
Back to Top ↑
For Your Comfort

People of any age can experience dental anxiety. We will adjust your dental treatment to a pace that is comfortable to you. We offer nitrous oxide to help you relax. Nitrous oxide, also known as laughing gas, is a colorless blend of oxygen and nitrous oxide gases with a pleasant, sweet smell and taste. Inhaling nitrous oxide creates a sense of well-being and relaxation, and it is used effectively to help individuals who experience anxiety or fear about dental treatment feel more at ease. Nitrous oxide increases your pain threshold and, when necessary, makes the administration of anesthetic injections more comfortable. It is also helpful for patients who have a strong gag reflex that interferes with dental treatment. We are also pleased to utilize electric handpieces. The reduced noise generated by electric handpieces helps our patients relax during their procedure.
Please share your concerns with us, so we can make your dental visits as stress-free and as comfortable as possible.
Back to Top ↑
Dental Technology
In addition to making dentistry more efficient and interesting for us, advancements in dental technology also improve your experience as a patient. Whether they're saving you time, keeping you comfortable, or giving you the smile of your dreams, our state-of-the-art amenities will completely change the way you think about going to the dentist.
Digital Dental X-rays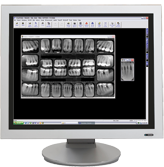 Digital x-rays are a fast and comfortable tool we use to assess your dental needs. They're safe enough to be used during pregnancy, and some studies have found that they emit up to 90% less radiation than conventional x-rays. With no chemical processing needed, digital x-rays are a good choice for you and the environment.
X-rays are commonly used in dental exams of patients of all ages, because many problems with the teeth and surrounding tissues cannot be seen by the naked eye. An x-ray is needed to reveal:
Small areas of decay between teeth or below existing restorations
Deep cavities
Infections in the jaw bones
Deep gum disease
Abscesses or cysts
Developmental abnormalities
Some types of tumors
Back to Top ↑
Intraoral Camera
Like digital x-rays, digital photographs with our intraoral camera are a useful diagnostic and patient education tool. Through the use of a tiny camera attached to a hand-held wand we can show you incredibly clear pictures of your teeth and gums. These pictures not only enable us to identify problem areas like a cracked tooth or a broken filling, but we can visually guide you through your diagnosis and treatment options. You also get a much clearer picture of your teeth than what a hand held mirror can show you. The intraoral camera provides you with the opportunity to be a partner with us in keeping your mouth and smile healthy and strong!
Back to Top ↑
Isolite
®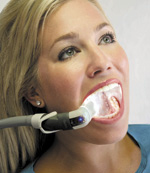 Our patients are enjoying more comfort and better care than ever with our Isolite® system! This system has a place to rest your jaw, a soft and flexible mouthpiece to better shield and protect your tongue and cheek, and high quality illumination of your mouth, which reduces shadowing and makes treatment even more accurate. Added benefits include new technologies that eliminate the need for cotton rolls and rinse breaks. Just another way we hope to make your visit with us a comfortable and relaxing experience!
Back to Top ↑